Posted on 7 November 2023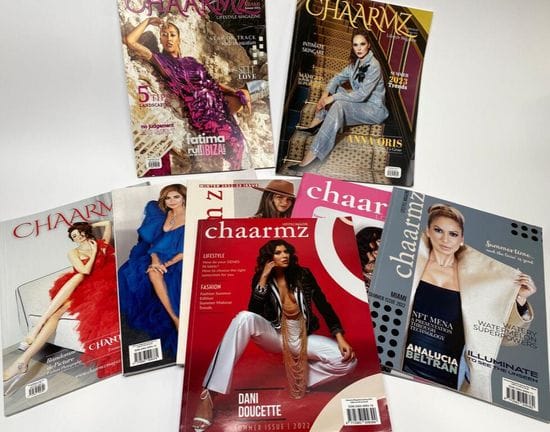 Markham Litho/ Candz Print Reliable Printing Partner
Here at Markham Litho/Candz Print, we are a reliable partner for all of your printing needs. To make your print projects effortless, we combine offset and digital printing with the newest technology and provide a range of binding and finishing solutions. We expertly handle all commercial print needs, from advertising and promotional materials to business forms, reports, flyers, stationery, banners, tradeshow displays, car wraps, and even book publishing. We are exceptionally proud of our expertise in print production, particularly when it comes to the manufacture of high-quality magazines. An outstanding project was produced as a result of our recent partnership with Chaarmz Magazine: an 80-page self-cover perfect-bound magazine that captures the spirit of urban and opulent living.
Charrmz Magazine shines with urban style, enticing its readers with culture, fashion, art, and more. Their print version is just as committed to quality as their web version. This relationship shows off both the magazine's spirit and the printing skills of Markham Litho. We are committed to putting ideas into print and making each page of Chaarmz Magazine a true work of art that reflects urban life.
Printing Chaarmz Magazine
The printing of the magazine featured an excellent blend of accuracy and originality. We utilized cutting-edge digital printing technology to ensure that each word and picture came out crisp and clear. The magazine was given a touch of classic elegance by the offset printing process, which contributed to the publication's sophisticated appearance. The dedication to excellence at Markham Litho went beyond printing. The magazine's durability and professional presentation were secured with the binding method used in the perfect bound finish. We used state-of-the-art colour printing to highlight the depth of Chaarmz's content.

More than just a printing firm, Markham Litho is your creative collaborator, committed to transforming your ideas into physical works of art. We are prepared to bring your ideas to life, whether you're planning an 80-page, self-cover perfect bound magazine like Chaarmz or any other print project. Our Scarborough-based team, which has a reputation for excellence dating back to 1972, combines cutting-edge technology with a passion for accuracy to ensure that each print accurately represents your brand and message. We provide a full range of services that are suited to your needs, ranging from Litho Print and Digital Print to Large Format Print. Get in touch with us for a tailored consultation, ask for a quote, or start your next printing project using one of our online forms.