Get Professional Results with Saddle Stitch Booklets from Markham Litho Printing
Posted on 6 February 2023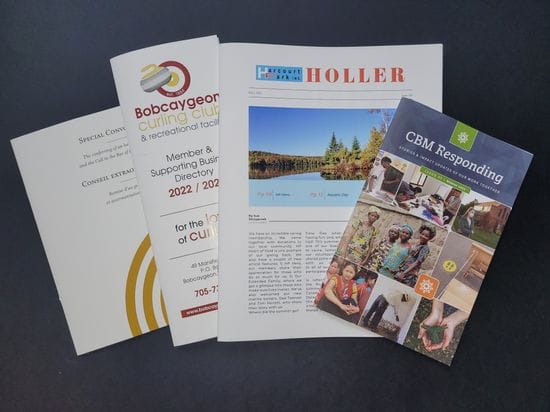 If you're looking for a high-quality binding option that won't break the bank, look no further than saddle stitch booklets from Markham Litho Printing. Our new FKS Duplo System 5000 saddle stitcher machine provides an efficient and cost-effective way to bind books of various sizes. Whether you are looking to produce product manuals, newsletters, product guides, or any other booklet projects, let's take a closer look at why saddle stitching is the perfect option for your next project.
What Is Saddle Stitching?
Saddle stitching is a type of binding method where pages are folded in half and then stapled together along the spine. Saddle Stitching is one of the most popular binding methods for magazines and other publications due to its affordability and durability when compared to other types of binding options.
Benefits of Saddle Stitching
There are many benefits to choosing saddle stitching for your project. In addition to being cost-effective, it creates a secure yet flexible binding that will stand up to years of use without falling apart or becoming loose. Additionally, saddle stitching results in less bulk compared to other binding techniques, making it perfect for products that need to be shipped or stored in tight spaces. Finally, this type of binding requires minimal setup time and can be done quickly on our FKS Duplo System 5000 machine, allowing you to get your product out faster than ever before.
What Books are best for Saddle Stitching
Our saddle stitching options make it easy to create a range of attractive and professional products. Small-format publications such as new product catalogs, newsletters, product guides, church bulletins, event guides, programs, employee handbooks, instruction manuals, sales packages, promotional brochures, and business magazines up to 8.5 x 11 inches can be brought to life with our high-quality binding method. Not only does this technique look great - durability scores highly too; perfect for annual reports or instruction manuals that need some extra staying power. Take a look at the examples below for inspiration on booklets we can produce for you.




The Advantages of Saddle Stitching with Markham Litho Printing
At Markham Litho Printing, we only use the highest quality materials and our new FKS Duplo System 5000 saddle stitcher machine ensures professional results every time. We offer a wide selection of paper stocks so that you can find the perfect material for your project and our experienced staff will help guide you through the design process to ensure your project looks exactly how you envision it. Plus, we offer fast turnarounds so you can get your project completed quickly without sacrificing quality.
At Markham Litho Printing, we understand how important it is to have a high-quality finished product with cost-effective production costs. That's why we offer professional saddle stitching services using our FKS Duplo System 5000 machine. Whether you need magazines printed or newsletters, our experienced team will work with you every step of the way to ensure that your product meets your highest expectations at an affordable price point. Contact us today to learn more about how we can help bring your vision to life!